Grilled Zucchini and Mushrooms
Linky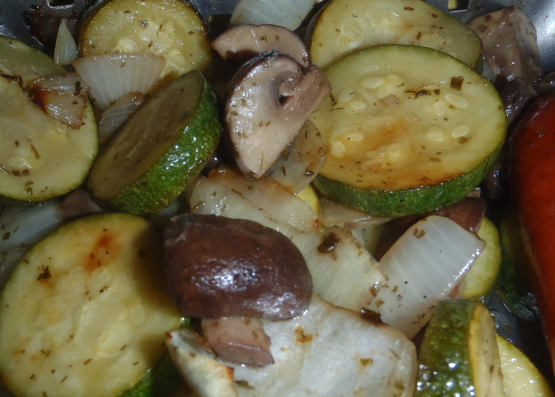 Recipe from NatashasKitchen.com
1

medium green zucchini, sliced into 1/3 inch thick rings

1

medium yellow squash, sliced into 1/3 inch thick rings

1

lb baby bella mushroom, halved, quartered if large
1⁄2 large onion, cut into 1/2 inch wide by 1 inch long slices
1⁄4 cup olive oil

3

tablespoons balsamic vinegar
salt and pepper, to taste

Optional garnish

fresh parsley, basil or chives, if desired
Preheat your grill to med/high (400˚F).
Place all of your sliced veggies into a large mixing bowl.
In a small bowl or measuring cup, whisk together: 1/4 cup olive oil and 3 Tbsp balsamic vinegar.
Drizzle your dressing over sliced veggies and toss/ mix to evenly coat all of your veggies. Sprinkle with salt & pepper to taste and let sit 10 minutes while your grill heats up.
Place all of your vegetables in a grilling basket and barbecue at 400˚F for about 12 minutes or until veggies are tender and cooked through, tossing every few times to ensure even cooking and caramelizing.
Add more salt to taste. Remove from heat and serve right away and garnish with fresh parsley, chives, or even basil.