Grilled Yellow Squash and Zucchini
GaylaJ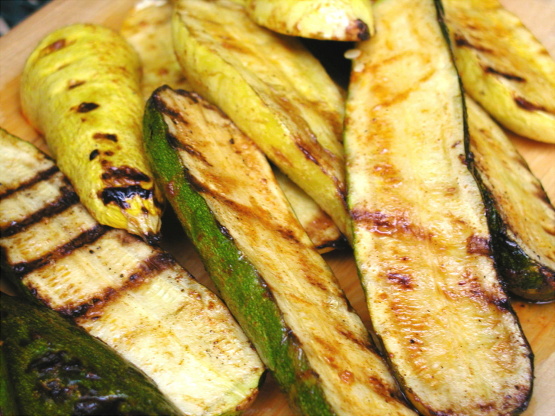 I love grilling vegetables, not only because they taste delicious, but I find it quite handy to cook an entire meal outdoors--- and it is nice to avoid heating up the kitchen during the hot summer months. This is a super quick side, no time spent peeling, slicing, or dicing. Just halve your squash, mix up your sauce, and get right down to the grilling business. This recipe (adapted from fooddownunder.com) does not call for any salt, but I really felt it needed some, so I gave the squash a generous sprinkling of kosher salt after it came off the grill. Unless you are watching your sodium intake, I think the flavor definitely benefits from a good dose of salt.

Made this tonight....very easy and really tasty. I would serve this to company because not only does it taste good but with the grill marks it looks like fancy restaurant food!
Halve each squash, but do not peel.
Combine sauce ingredients and brush squash with sauce.
Place on medium hot grill and cook about 5 minutes on each side, basting frequently with the sauce.