Grilled Veggie Sausage Pizza
Nimz1466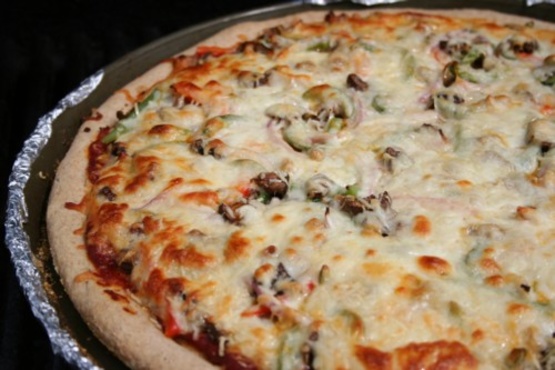 Wonderful for hot days when you don't want to turn your oven on. Found this in Taste of Home Backyard Grilling and made some significant changes to suit our taste. I used my Kitchen Aide Mixer for this. This pizza crust does not require cooking before adding your toppings. Of course, you can add any of your favorite toppings you like. I did in this recipe. I don't usually measure out the cheese when I made pizza, so use as much or as little as you like. You can tell when it's enough. This makes 2 12 inch pizzas or 1 large one.Hope you enjoy.
Great pizza, so yummy. I used recipe#255242. It went great with the topping. I didn't do the dough, I bough a frozen pizza dough. I used spicy italian sausages. I used mozzarella cheese and only red bell peppers. Thanks Nimz :) Made for 123 hit wonders
In the Kitchen Aide mixing bowl, dissolve yeast in warm water and let it stand for 5-10 minutes or until it foams.
Add the sugar, oil, salt, garlic salt, oregano and 1 1/2 cups flour.
Using the dough hook at speed 1 or 2, knead dough, adding in enough of the remaining flour to form a soft dough.
Knead the dough until it becomes smooth and elastic, about 6-8 minutes.
Before transferring to a greased bowl and turning once to grease the top, give the dough 3-4 kneads by hand.
Cover and let rise in a warm place for 30-40 minutes.
Wrap foil over the outside bottom of two 12-in-pizza pans. (We used a large pizza pan).
Grease pans, dust with cornmeal and set aside.
In a skillet, cook sausage over medium heat until no longer pink.
Drain on paper towels and set aside.
Divide dough in half if using the 2 small pizza pans.
Spread the dough over the surfast of each pan. (I use a rolling pin to get it as close to the edge as possible then spread it further with my hand.).
Build up edges slightly.
Spread pizza sauce over crusts.
Sprinkle with sausage, cheese, mushrooms, peppers, and onions.
Grill, covered, over medium heat for 15-20 minutes or until bottom of crust is browned and cheese is melted. (If you go to much over the 20 minutes the bottom of the pizza will burn. Try not to lift the lid any more than you have to).