Grilled Veggie and Steak Appetizer
Ms B.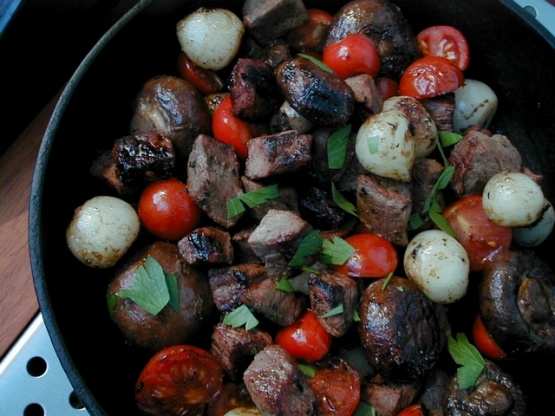 From a Betty Crocker Summer Fun Appetizer booklet. These are basically kabobs that aren't "kabobed", but work great when served as an appy. A grill basket is necessary to keep the ingredients from falling through the racks. I served in a rustic style by pouring into a cast iron pan and providing little plates and wooden toothpicks for the guests to nibble.
Heat gas or charcoal grill.
In large bowl, place mushrooms, beef, onions and 1/2 cup of the vinaigrette; toss to coat.
Let stand 10 minutes; drain.
Place mixture in grill basket (or grill wok).
Place basket on grill. Cover grill; cook over medium-high heat 7 to 9 minutes, shaking basket or stirring beef mixture twice, until vegetables are tender and beef is desired doneness.
Stir in tomatoes.
Spoon beef mixture into serving dish.
Stir in remaining 2 tablespoons vinaigrette.
Serve with toothpicks.