Grilled Vegetables With Green Curry Marinade
Zurie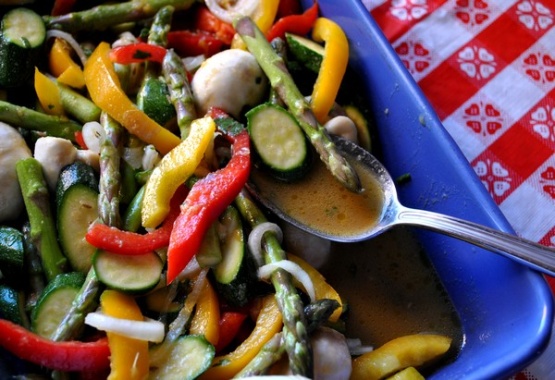 A mix of fresh veggies in a tangy marinade. It helps to have a grill basket for this, or really small openings on your grill grates. Orange bell peppers and green beans (instead of asparagus) can also be used. This serves 4 as a side or salad topping, or 2 as a main dish. My green curry paste is fairly mild, so if yours is hot, adjust amount according to tastes.
I loved this marinade for the veggies. Perhaps it is just that I really enjoy green curry. I will definitely be making this again.
Mix first 7 ingredients (lime juice through curry paste) in a small bowl until blended.
2. Put all of the veggies into a large zip-top plastic bag and pour marinade over them. Seal and toss gently to coat veggies. Marinate 30-60 minutes.
3. Prepare grill. (I use a gas grill).
4. When grill is ready, dump veggies into grill basket and cook over med-high heat for 15-30 minutes (or until cooked to your crispness preference) , gently turning veggies halfway through cooking time.
5. Remove from heat and serve, or cool to room temperature and use on a salad.