3 Reviews
I loved this marinade for the veggies. Perhaps it is just that I really enjoy green curry. I will definitely be making this again.
We really enjoyed this recipe although I had to utilize an indoor contact grill. We loved the zing from the citrus, enjoyed the smoky cumin paired with cilantro, and the spiciness of the curry paste was a nice note. I used fairly large button mushrooms and omitted the asparagus completely. Served with baked tilapia & melon. Good luck in the contest!

Made and reviewed for DINING ON A DOLLAR. I wasn't sure of the size or weight of the zucchini, and used 5 small ones. Could not get cremini mushrooms and had to use white mushrooms; I was also not sure how large "4-5 creminis" would have been. But those are minor points. Had to use brown onions as no purple available. I'm sure none of that would have affected the final taste! The green curry paste could possibly have been a little less for these veggies, but it could have been the paste I used. My one problem was that the marinade was a little too acidic for the veggies and also needed salt. I whisked in 1 tablespoon honey and 1 teaspoon flaky salt, and that improved the lovely tang greatly. Grilling as described was not possible, so I oven-roasted the veggies. It was lovely, and went well as a side dish with roast chicken. Veggies were roasted for 30 minutes, and that was spot-on. I took some photos before actually roasting, as the raw, marinated veggies looked so nice, and the daylight was already fading here. Will post after the contest. Thanks for a very nice dish, maybe not yet 5 stars, but definitely 4 1/2! Good luck!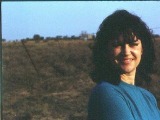 Grilled Vegetables With Green Curry Marinade