Grilled Vegetable Salad With Tarragon Vinaigrette
~Nimz~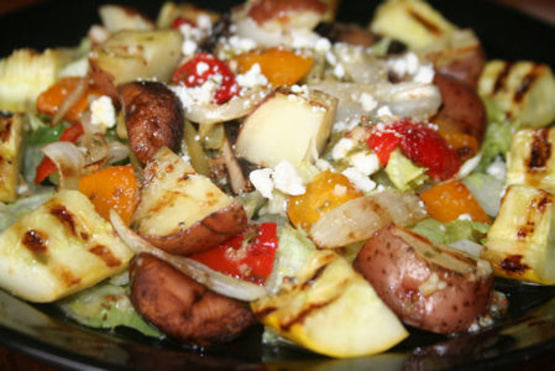 My taste testers described this salad as an 'explosion of flavor' in your mouth . . .starts out subtle and then builds! Note: To simplify preparation, the blanching of the beans and steaming of the potatoes can be done in advance!

Top Review by ~Nimz~
This was just excellent. Loved the combination of grilled vegetables. I used squash and iceberg lettuce with the permission of GW and that worked very well for us. I also used baby portobello mushrooms which is what I had. The dressing really compliments this salad very well. I just arranged everything on top of my lettuce and drizzled the dressing over everything. I left off the walnuts for personal preference. This is a great summer salad. Thanks for sharing. Made for Hidden Gems :)
453.59

g French haricots vert, trimmed (thin green beans)

680.38

g new potatoes, washed and cut in half

3

large zucchini, sliced lengthwise

2

large sweet onions, sliced 1/4 inch thick

1

large red pepper

1

large yellow pepper

3

(12 inch) portobello mushroom caps
olive oil (for basting)

1

head romaine lettuce, chopped (optonal)

Garnish

236.59

ml feta cheese, crumbled

177.44

ml chopped walnuts, toasted

1

sprig fresh tarragon

Vinaigrette

78.07

ml white wine vinegar

9.85

ml whole grain mustard (to taste)

4.92

ml Dijon mustard (to taste)

2

small shallots, diced

2.46

ml garlic, minced

236.59

ml salad oil (I used red pepper infused olive oil)

29.58

ml fresh tarragon, coarsely chopped (and muddled)

4.92

ml lemon pepper (to taste)

0.25

ml sugar (to taste)
Chill salad plates.
VINAIGRETTE:.
Muddle the tarragon with a mortar and pestle (or mash between to tablespoons).
In a small bowl, whisk together vinegar and mustards. Add oil in a slow stream, whisking until well blended. Stir in shallots, garlic and and tarragon. Add lemon pepper to taste.
BLANCH BEANS:.
Bring a large pot of salted water to a rapid boil.
Drop the beans into the rapidly boiling water and bring back to a boil and cook uncovered for 8 - 10 minutes, testing the the beans after 8 minutes.
Once desired doneness is reached, immediately drain in colander and run cold water over them to stop the cooking process.
Drain and transfer to a mixing bowl, toss with 1/4 cup vinaigrette; set aside.
PREPARE VEGETABLES FOR GRILLING:.
Salt zucchini and place cut side down on wire rack which has been placed on cookie sheet to collect the water. Allow to sit for 20 minutes.
Place potatoes in a steamer (or use a microwave steam bag) and steam until partially cooked, approximately 4-5 minutes (less for microwave), Time will vary depending on size of the potatoes.
To Grill Vegetables:.
Preheat grill and oil grate (or better yet use a grill pan, which keeps the smaller pieces from going through the grate).
Place peppers on grill and blacken on all sides; transfer from grill to a covered dish for 10 minutes, then peel the blackened skin off. (Do not run under water as you will lose flavor.) Cut into 1-inch pieces. Set aside.
Brush zucchini, onions, mushrooms and potatoes with olive oil.
Grill over hot coals to desired doneness, approximately 4-6 minutes per side, or until grill marks are apparent on both sides.
Remove from grill and cool slightly.
Cut vegetables into 1-inch pieces.
Place grilled vegetables in large bowl and toss with 1/2 cup vinaigrette; top with green beans (drizzling the vinaigrette over the vegetables).
Line chilled serving plates with Roamaine lettuce; top with grilled vegetables.
Crumb feta cheese on top; and garnish with toasted walnuts and tarragon leaves.
Pass remaining dressing.