Grilled Vegetable Couscous
-Sylvie-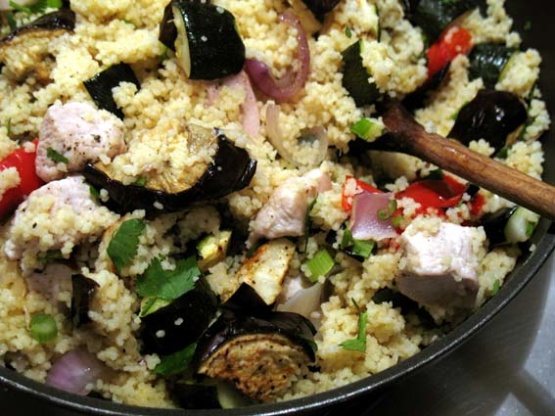 This could be a side dish to grilled meat, a light lunch, or a vegetarian main dish. Recipe is from Light and Tasty's June/July 2005 issue.
This is really easy to make and very similar to how I often make couscous. I grilled the vegetables in the oven as it wasn't the weather for a BBQ. The only other thing I changed was to replace the thyme with corriander as I had some that I wanted to use up and I added grilled, cubed chicken breast fillets once it was all done. I'd probably add some minced garlic with the broth next time for some extra flavour. The leftovers are great for a cold lunch the next day, just add some arugula and cherry tomatoes and it makes a perfect salad box to take to work. Thanks for sharing.
Spritz vegetables with nonstick cooking spray and sprinkle with ¼ teaspoon each of salt and pepper.
Coat grill rack with nonstick cooking spray before preparing grill for indirect heat.
Arrange veggies on grill rack over indirect heat.
Grill, covered, over medium indirect heat for 4-5 minutes on each side or until tender; let stand until cool enough to handle.
Bring broth to boil in a saucepan and stir in couscous; remove from heat, cover, and let stand for five minutes or until liquid is absorbed.
Cut grilled veggies into ½ inch pieces.
Fluff couscous with a fork and add vegetables, green onions, lemon juice, thyme, and remaining salt and pepper.
Toss until combined.