Grilled Vegetable Cheese Bread
Nimz1466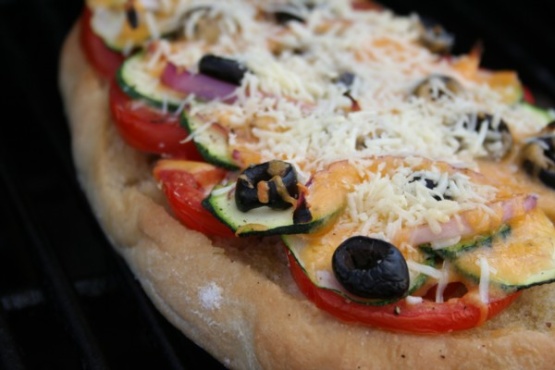 This is so good, served with any grilled meal. A good way to use up fresh tomatoes. Adapted from TOH Backyard Grilling with a few minor changes.

Top Review by WiGal
Very tasty, versatile, and lovely! It's rainy here so did this in my oven. I sliced all the veggies very thin, nuked the zucchini slices on a plate covered with wax paper for 30 seconds which was easy to do and the zucchini was cooked to our satisfaction. I used Recipe#290157 instead of creole seasoning but did sprinkle on black pepper too. I put the seasoning onto veggies then sprinkled on the cheese. And as you can tell by my photo I did not add enough cheese-my fault. I omitted the black olives b/c I need to buy a jar. I also used some bread machine bread I had, and the heels here were nice and crunchy. Thank you ~Nimz~ for a nice lunch. Made for Gimme 5.
Brush cut sides of bread with olive oil.
Grill cut side down over medium heat until just golden, about 5 minutes.
Remove from grill.
Layer with tomatoes,zucchini and red onion.
Sprinkle with cheddar cheese, olives and Creole seasoning.
Add salt and pepper to taste.
Prepare grill for medium indirect heat.
Place bread on grill rack.
Grill, covered, over indirect medium heat for 10-12 minutes or until zucchini and onion are crisp tender.
Sprinkle with Parmesan cheese.
Grill 2-4 minutes longer or until cheese is melted.