katii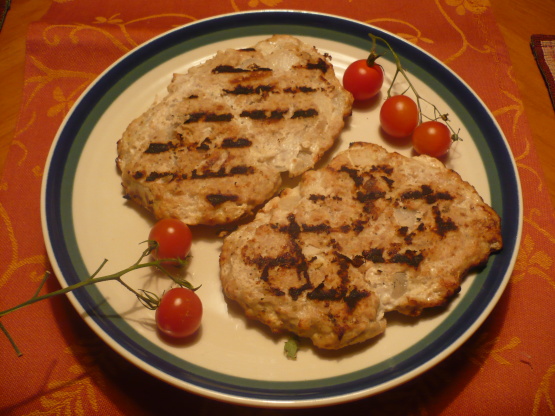 Different and delicious! This flavourful burger is a tasty alternative to the usual beef.
3⁄8 cup egg white
1⁄2 teaspoon roasted red pepper seasoning
1⁄2 teaspoon italian seasoning
1⁄2 teaspoon mesquite powder

3

tablespoons gluten free breadcrumbs

1

tablespoon extra virgin olive oil
1⁄2 lb lean ground turkey

1

teaspoon minced garlic

3

tablespoons onions, chopped
Whisk together egg whites, seasoning, bread crumbs, and oil until relatively smooth.
Combine with remaining ingredients.
Mix together well.
Grill on a medium-high barbeque for about 5-6 minutes per side or until thouroughly cooked.
Enjoy!