Grilled Turkey and Provolone on Garlic & Herb Bread
Debbwl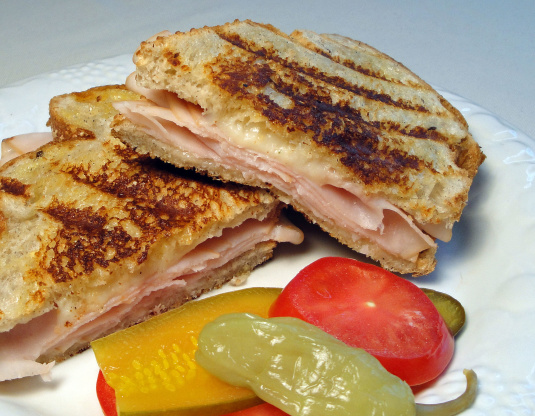 I have a love of grilled cheese sandwiches. I decided to spice it up a bit and came out with a great, quick lunch. You may substitute any meat, cheese or bread choices. Recipe is just my preference.

Top Review by Debbwl
Yum! This is a wonderful grilled cheese sandwich with loads of garlic flavor. Made two minor changes the first was did not measure the MrsDash instead just sprinkled it on and the second was to opt out of using the mayonnaise, did use a very sturdy multigrain French bread which also brought a nice flavor and texture. Thanks for the post.
1 1⁄2 tablespoons margarine

1

tablespoon ms. dash garlic and herb seasoning

1 -2

slice thinly sliced provolone cheese

5 -10

slices of very thinly sliced deli turkey (I use Hillshire Farms pre-sliced deli selects)

2

slices Italian bread or 2 slices white bread
Heat up skillet on medium heat.
Combine margarine and seasoning.
Spread above on both sides of bread slices.
Grill until BOTH sides of bread are nice and golden brown. (like you would a grilled cheese sandwich only you're JUST toasting the bread).
Turn stove heat off and remove one slice of the toasted bread.
Place turkey and then provolone on one slice of sandwich. Put cheese on top ensure melting.
Place lid on skillet.
Keep on stove until cheese is melted and meat is slightly warmed.
Remove from stove.
Put mayo on the slice you removed, but sandwich together, cut and enjoy with potato chips and a dill pickle on the side!