Grilled Trout With Cashew and Garlic Butter
Luschka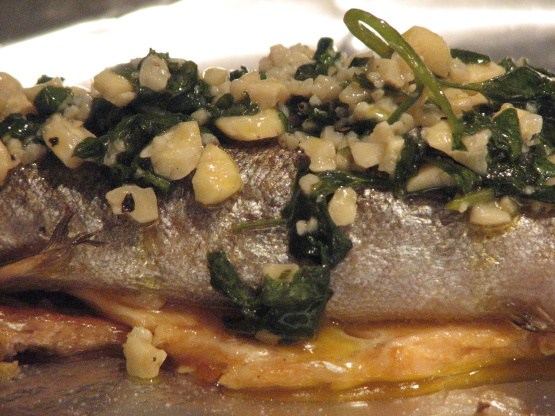 From Fresh Food Fast. The whole meal is done in under 20 minutes! Excellent served with boiled new potatoes.

My hubby RARELY compliments my cooking. He loved this. I left out the lemon (I don't like lemon on fish), broiled it in the oven, and peeled the skin before putting the sauce on- I didn't want to waste all that yummy stuff. I'll definitely make this again.
4

(793.78 g) whole trout
vegetable oil, for brushing
salt and pepper

56.69

g butter

56.69

g cashew nuts, shelled

2

garlic cloves, finely chopped
chopped parsley, a good handful

1

lemon, juice of
Preheat hot grill or barbecue. Slash skins of fish deeply three times on each side to let the heat permeate the flesh. Remove the heads if you like.
Brush the fish lightly with oil, and season with salt and pepper both inside and out.
Cook under grill or on barbecue for 4 minutes on each side, or until the skin is browned and the flesh feels firm.
Melt the butter in a wide shallow pan, and fry the nuts quickly until toasted. Add the garlic and parsley, and fry the mixture briefly until the parsley darkens slightly.
Add the lemon juice with more salt and pepper to taste and heat through.
Put each trout on a warm serving plate, and spoon over cashew and garlic butter.