Grilled Tomatoes and Asparagus With Pesto Garnish
Rita1652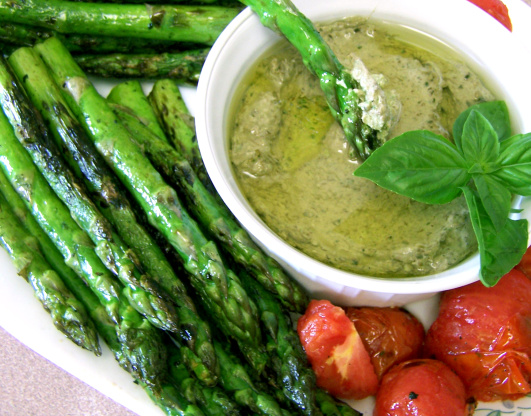 Lots of flavor! This recipe was made for the RSC contest so that is why different ingredients are used like the soy and Ricotta. I myself would like my pesto Pesto better. And as for the 1/2 teaspoon light soy you don't even know it's there. But if you like go ahead and use salt or just skip it! For the pesto is strong and the veggies need nothing extra.

This recipe had many good things about it, but Im not sure that I enjoyed the mixture of it. The pesto is very good, but I didnt really like it mixed with the tomato and asparagus with the soy sauce. I felt like it was missing something, and maybe I wouldnt have used the soy sauce. Maybe I'll add some pasta to this next time...and leave out the soy sauce.
Heat grill.
For pesto place all ingredients into a food processor pulse till smooth.
Keep cool.
Mix olive oil and soy place in storage bag.
Add tomatoes and asparagus.
Toss to cover then place on hot grill turning till just blistered.
Remove from grill.
Season with salt and pepper.
Cut tomatoes in half.
Arrange on plate with aparagus.
Topping with pesto.