Grilled Tomato, Smoked Turkey, and Muenster Sandwich

Directions
Combine the first 4 ingredients in a bowl.
Spread 1 teaspoon butter on one side of each bread slice. Spread 2 tablespoons mustard mixture over unbuttered side of each of 2 bread slices; top each with 3 turkey slices, 2 tomato slices, 1 cheese slice, and 1 bread slice (with buttered side out).
Heat a large nonstick skillet over medium heat until hot. Add the sandwiches; cover and cook for 3 minutes on each side or until golden brown.
Most Helpful
Super delicious sandwich! The mustard mixture really sends this over the top! Thanks for sharing.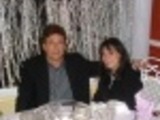 A really yummy sandwich! I made these to accompany a roasted tomato soup for the New Years Day football games. Everybody loved them. The sauce is delicious. Skipped the butter and just used cooking spray.
The ingredients were certainly appealing, but the sandwich was really just ok.