I was trying to come up with something easy to serve at a cocktail party and this is what I came up with. They were a huge hit, even for people who normally don't like Gorgonzola cheese. The balsamic glaze can be made well in advance, I usually have some in the refrigerator waiting for me to use it. The yield is an estimation.
Directions
To make the glaze: simmer the vinegar and the sugar until it has reduced by half. Cool then refrigerate.
To make the crustini: slice the baguette in 1/4 inch thick rounds. Lay out on wax paper on the counter.
Cut the tomatoes in half from top to bottom, then lay cut side down and slice into 1/4 inch thick half circles. Lay out next to the bread rounds.
Brush the bread and the tomatoes with olive oil and season with the salt and pepper.
Grill the bread for about 1 minute on each side on low heat. Watch out for hot spots to avoid burning. Lay out on a serving platter.
Grill the tomatoes for about 30 seconds on each side on med-high heat, making sure to heat through and to get a little charring. Place the tomatoes on top of each lice of bread.
Sprinkle the Gorgonzola evenly on each crustini then drizzle the glaze over the tops and around the serving platter. Sprinkle the platter with the parsley.
Reviews
Most Helpful
This made for a wonderful mid morning snack. I reduced it down to just 1/4 baguette using regular bleu cheese. I also added some garlic powder to the sauce. With the minor changes, it really made wonderful 'mini-pizzas'. Thanks for sharing the recipe.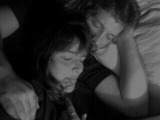 Made for the *Best of 2008* tag game, this was great & loved the glaze! I used blue cheese + garlic (like Nimz), did not use the grill (Feb in Iceland) & used crusty rolls vs baguette. We try to eat light on Tues & Thurs nite when DH has a main-meal at noon & blue cheese was the theme as I paired this w/55 House Salad (another *Best of 2008* tag). The combo made a great meal for us. Thx for sharing this recipe w/us. *Yum* :-)

Oh, this was so good! I quartered the recipe and used blue cheese. I had this for breakfast and totally enjoyed it! Thank you!