Grilled Three Potato Salad - 4 Ww Pts/Serving
Amy020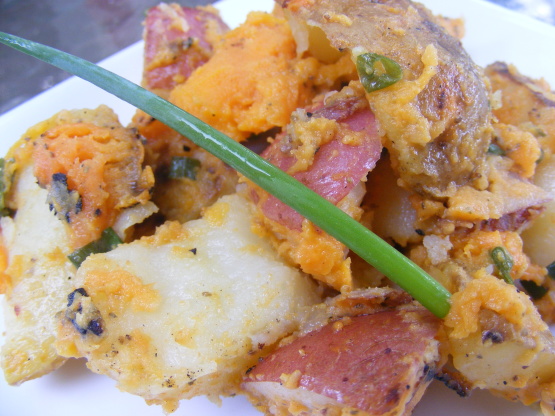 I was determined to find a YUMMY, healthier potato salad that wouldn't make me miss the mayo so much. This is it!!! As with most salads, leftovers are even better the next day. From Taste of Home site, with a few minor adjustments.
Cut potatoes into medium-size chunks. Cover with water in large pot and boil/simmer till done, about 10 minutes.
Place potatoes in gill wok or basket (OR, use disposable foil pan, poking holes in bottom with meat fork to allow liquid to drain.) . Grill uncovered over medium heat 8-12 mins until browned, stirring frequently. Transfer to large serving bowl. Add onions.
Whisk together remaining ingredients. Drizzle over potato mixture and toss to coat. Serve warm or cold.