Peter J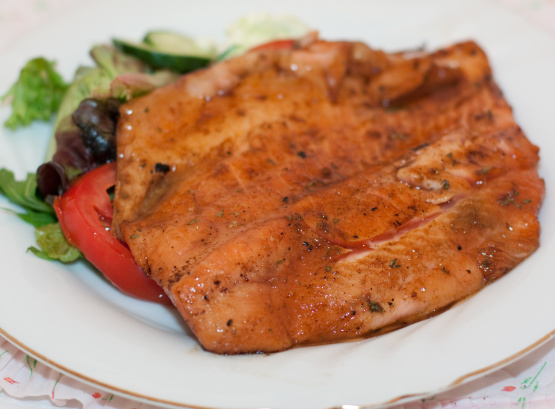 This just might be the best salmon you will ever have! Plan ahead the salmon needs to chill for 3-6 hours. This recipe may be reduce to half if desired.

This Grilled Salmon Teriyaki was very, very great. We added broccoli slaw and pineapple, jicama & cucumber salad. And the wine! It wasn't a special occasion but it was a special dinner. The grilled salmon teriyaki will be often. It helps my diabetes, too.
In a bowl mix together together soy sauce, brown sugar, water, Worcestershire sauce, oil, ginger and lemon pepper; whisk until no sugar granules remain (this might take a couple of minutes) add in garlic halves and green onion.
Wash the salmon under cold water then pat dry using paper towels.
Place the salmon into a long deep glass dish (or use a large resealable plastic freeze bag) then pour the marinade over; turn salmon to coat in the marinade.
Refrigerate for 3-6 hours (turning occasionally).
Set grill to medium heat, then grease the grill glates.
Place the salmon on the grill, then discard marinade.
Season with salt and more lemon pepper if desired.
Grill for 6-8 minutes per side or until the fish flakes easily (do not overcook!.