Bayhill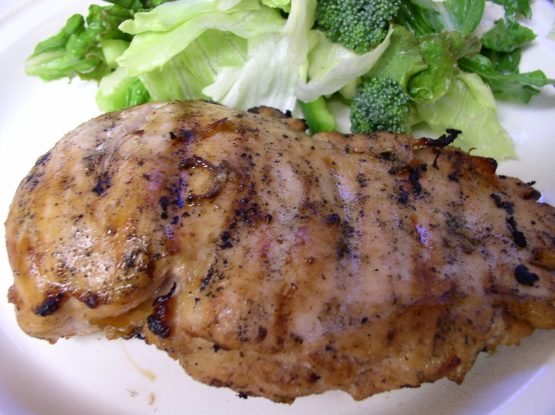 This is another "excellent" recipe from Southern Living magazine (July 1991 issue).
This was great chicken! The marinade goes together very quickly and easily. I doubled the marinade ingredients because I used 4 boneless breasts, 2 thighs and 2 legs. I did add a little brown sugar to sweeten it up a bit. Also, I marinated the chicken for about 6 hours. My family devoured this and gave it 2 thumbs up. Thank you for sharing this wonderful recipe...it is definitely a keeper.
Combine first 7 ingredients; place in a shallow glass container or large zip-lock bag.
Add chicken, cover or seal and chill 1-2 hours, turning occasionally.
Remove chicken from marinade and grill, covered, over medium coals for 4-5 minutes on each side or until chicken is tender and juices run clear.