gailanng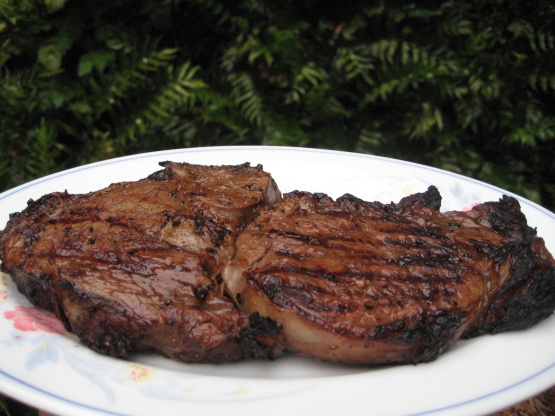 This is an excellent marinade for any steak. The flavor is just wonderful. Our T-bones came out perfect. Very tender with a wonderful flavor. The original recipe is from TOH with some changes to suit our taste. Prep time does not include the time it takes to marinate the steaks.

Wow.. this was a great marinade, probably the best T bone steak I've ever had. Substituted low sodium Dales marinade for the soy sauce. I only marinated 2 hours but cant wait to try again and marinate over night..
In a large resealable plastic bag, combine the first 11 ingredients.
Add steaks.
Seal the bag and turn to coat.
Refrigerate overnight, turning as often as you can. (I actually marinated my for a day and a 1/2.).
Drain and discard marinade.
Grill steaks, over high heat for about 5 minutes on each side or until meat reaches desired doneness (for medium-rare, a meat thermometer should read 145 degrees, medium, 160 degrees, well-done 170 degrees).