Grilled Swordfish With Spicy Tropical Sauce
Lane W.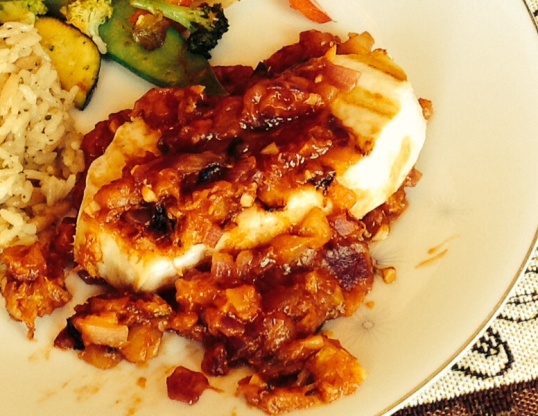 A meaty cut of swordfish steak, topped with a tangy sauce that is both sweet and spicy...a blend of crushed pineapple and orange, tomato, garlic and hot pepper flakes. Serve the swordfish with either plain rice or rice that has been cooked with a pinch of cayenne pepper and some shredded unsweetened coconut.
Very tasty dish! The "sauce" is more of a chutney as there is almost no liquid in this recipe to start with, but the flavors are a wonderful blend of sweet and spicy. I'll definitely make this again a likely add a little orange juice to create that sauce like quality.
Peel the orange, removing all the bitter white pith and coarsely chop. Coarsely chop the onion. Chop the scallion greens. Set aside.
In a sauce pan, toss the orange, onion, scallion greens and pineapple along with its juice, tomato paste, garlic, cornstarch, salt, hot pepper flakes and cayenne. Bring to a boil over medium heat. Keep stirring as to not burn. Cook uncovered, for about 10 minutes. Keep stirring.
Reduce the heat and simmer, uncovered until it gets nice and thick, about 10 minutes.
Cut the swordfish into four steaks.
Top each steak with 1/4th of the sauce and grill, turning once, for about 12 minutes or until the steaks flake when tested with a fork.
Note: You can prepare the sauce in advance.