Grilled Swordfish, Green Beans and Spicy Tomato Salsa
2Bleu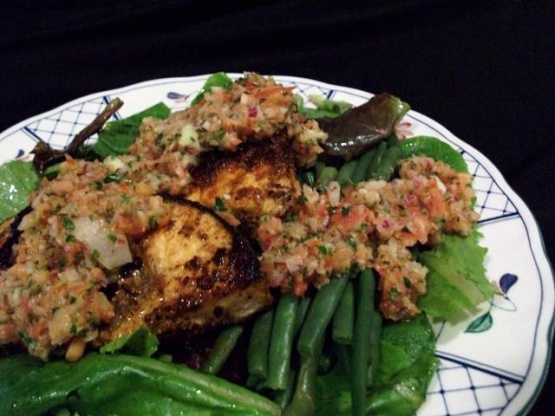 Chef Jamie Oliver hit a home run with this delicious meal. Fantastic flavor combinations. I highly recommend you give this meal a try. Simple elegance! The tomato salsa if fantastic served over tuna, too.

Excellent! I made the swordfish and the salsa as directed (cutting down a bit on the amount of oil), made plain green beans and boiled red potatoes for the meal. The swordfish was perfectly cooked and the salsa is wonderful -- sort of a solid form of gazpacho with a little extra bite. We loved the meal--even without the greens and vinaigrette. I'll make this again and am looking forward to trying it wiwh other fish. Dinner was good, LifeisGood! Thank you.
4

(6 -8 ounce) swordfish steaks (1/2 inch thick)

2

tablespoons olive oil
salt & freshly ground black pepper, to taste
3⁄4 lb green beans, cooked until tender (about 3-5 minutes)

1

(15 ounce) bag lettuce (I use spring mix)

Olive oil and lemon juice dressing

2

tablespoons fresh lemon juice

5

tablespoons olive oil
salt & freshly ground black pepper, to taste

Tomato Salsa

3 -4

plum tomatoes, seeded and chopped

2

tablespoons capers, drained
1⁄2 cup red onion, chopped

1

garlic clove, chopped
1⁄2 cup flat leaf parsley, chopped

1 -2

tablespoon balsamic vinegar (to taste)

6 -8

tablespoons olive oil (to taste)
1⁄4-1⁄2 teaspoon crushed red pepper flakes (to taste)
1⁄2 cucumber, peeled, seeded and diced
salt & freshly ground black pepper, to taste
Make the salad dressing by whisking the olive oil into the lemon juice, then adding the salt and pepper. Set aside.
Make the salsa by mixing all ingredients together, season to taste. Set aside.
Rub the swordfish steaks with some olive oil and sprinkle with salt and pepper.
Put the swordfish on a pre-heated grill (or ridged griddle), medium flame, and cook for 2-4 minutes on each side. Remove from heat.
Lightly dress the beans and salad greens with the olive oil and lemon juice dressing.
Place the swordfish on top of a pile of dressed greens.
Spoon the tomato salsa on top of the swordfish.
Enjoy!