Grilled Sweet Potato Wedges
PaulaG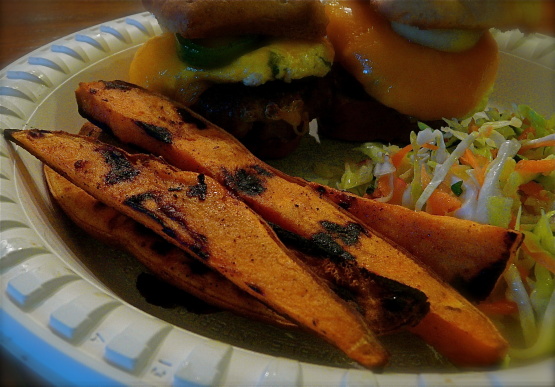 Posting for ZWT5. This recipe is from www.recipeisland.com under Trinidad & Tobago. Time and serving size is an est.
Top Review by PaulaG
These were enjoyed at a recent cookout. They were served with sliders and coleslaw. I choose not to precook the potatoes and had no problems with them cooking through on the grill. They were not as crunchy as there oven baked counterparts often are but were nicely seasoned and a nice cooking technique for future use. Made for Bounce the Ball for Summer Fun in the Diabetic Forum.
Light the grill. Use a hinged grilling basket if you have one.
In a large saucepan of boiling salted water, simmer the potatoes until almost tender, ~ five minutes.
Drain, transfer to a large bowl, and toss with the remaining ingredients.
Grill over moderate heat for about `5 minutes, turning until tender and lightly charred.
Serve warm.