Lazarus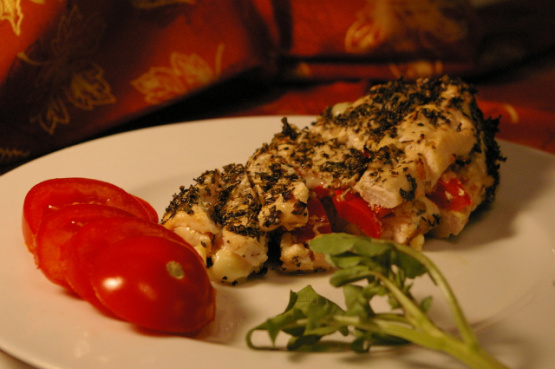 This is something that you'd find a in 5 star restaurant. Takes a little work to put together, but, OMG, IT IS WORTH IT!

This chicken was quite good. I added fresh basil to the marinade, and included two entire stalks of green onion, since my other recipes used up the rest I had on hand. I agree with the others. I think a sharper, richer cheese would do well in this recipe. I would make it again, but I would have to add some more ingredients to really bring out this recipe's potential. mad for PAC Spring '08
Cut a deep pocket into the side of each breast, set aside.
Saute red peppers, onions, garlic& mushrooms in a little olive oil until soft.
Open the pocket in the chicken and place vegetable mixture and mozzarella cheese slices (save a little of vegetable mixture to add to marinade).
Secure with toothpicks.
Prepare marinade and coat chicken with marinade, let sit for at least 20 minutes.
Cook on grill (about 10 minutes).