Grilled Steak Sandwich With Mushrooms and Caramelized Onions
lazyme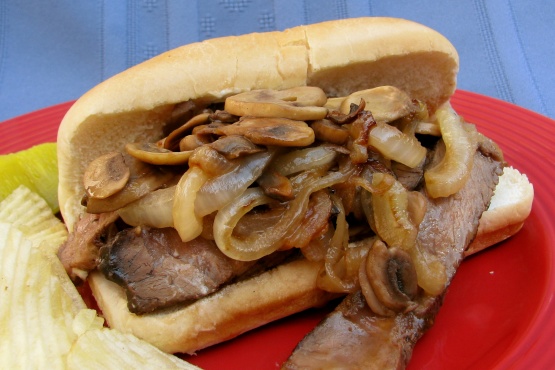 this tasty grilled steak sandwich can be made during bbqs or using a home griller or toaster oven. left over bbq steaks can also be used while just topping it with the grilled mushrooms and caramelized onions.

Wow! The caramelized onions and mushrooms were AMAZING! I added a little red wine to the sauce as well. We ate it over grilled steaks instead of as a sandwich, but I can see myself using this recipe for a lot of different things! Thanks!
for the onions, heat oil, add onions and cook for 15 mins or until soft.
add water, brown sugar, vinegar and simmer until water has nearly evaporated adding the butter last,turning off the heat and stirring it.
for the steak, brush both sides with oil and add a bit of steak seasoning, grilling it for 2-3 mins on each side.
grill the mushrooms too for 2 minutes and cut into slices.
then, toast the bread adding the grilled steak and top with caramelized onions and mushrooms.
repeat with others and serve with french fries or chips.
best served warm.