Grilled Steak Salad With Crumbly Bleu Salad Dressing
gailanng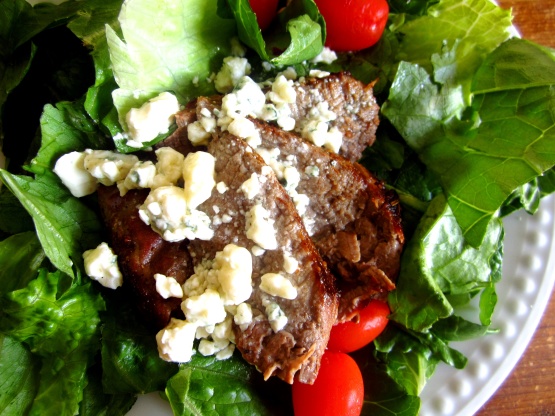 A lovely summer salad topped with grilled steak slices and served with a delicious vinaigrette dressing with crumbly bleu cheese added.

THE Best Steak Salad! Green olives are so good with this, I also add chopped Mushroom, red bell pepper and a fried slice of bacon. Thank you for posting!
In a small bowl, combine the first seven ingredients and mix well.
Stir in blue cheese.
Cover and refrigerate.
Brush olive oil on steaks and sprinkle with Monreal Steak Seasoning.
Grill steaks, uncovered, over medium-hot heat for 6-10 minutes on each side or until meat reaches desired doneness.
Thinly slice meat.
On a serving platter or individual salad plates, arrange lettuce, tomato, carrot, onion and olives.
Top with steak and dressing.