Karen..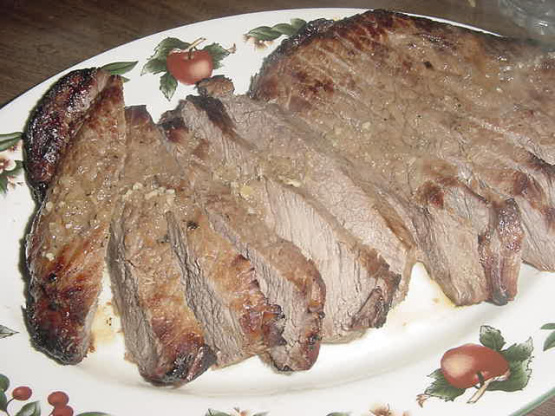 This tender steak has a sweet Asian touch flavored with pineapple, crystallized ginger,teriyaki sauce, garlic & port wine. Quick and easy! Can be made with pork or chicken.

This was excellent steak and I'm not even a steak lover. I used a 2.25 lb. top round London Broil and broiled instead of grilling. It came out so tender I couldn't believe it. Personally, I thought the sauce was a tad sweet, but if I only used a drizzle, it was just right. Also, I didn't add port, because it wasn't listed in the ingredients and I didn't realize I needed it until I already started the recipe. Served with teriyaki potatoes and oriental vegetables. Thanks for posting.
Place all ingredients except for steak in storage bag and give a shake to mix marinade.
Add steak and marinade 6-8 hours or even overnight.
Remove steak from marinade.
Bring steak to room temperature.
Place marinade in a small saucepan add 2 tablespoons port and simmer 5-10 minutes.
Grill steak on a medium high heat for 4-6 minutes each side.
Let steak sit for 10 minutes before slicing and serve along with the hot sauce.