Grilled Spicy New Potatoes
teresas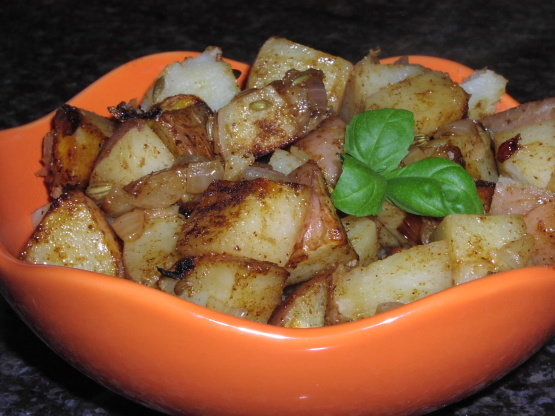 I've always made these on the BBQ grill in foil packets, and the directions work great as is. If you want to make them in the oven, take a look at the reviews for suggestions on modifications & cooking times.

Made this with our dinner tonight?mixed reviews?the hubby just loved it?I wasn?t on board with the spices?I did cut the recipe in half and it was the perfect amount for 2 people?we must be hearty eaters?the cooking was spot on?made for FYC tag came?
In a medium bowl, combine potatoes and 1/2 tablespoon oil.
In a separate small bowl, mix cumin, paprika, salt, chili powder, fennel and ginger.
Add spice mix to potatoes and toss well to coat.
Transfer potatoes to aluminum foil and seal packet.
Grill potatoes in foil for 15-20 minutes or until just tender.
Transfer to serving bowl and drizzle with remaining 1 1/2 tablespoons oil.