Grilled Spareribs Cantonese
loof751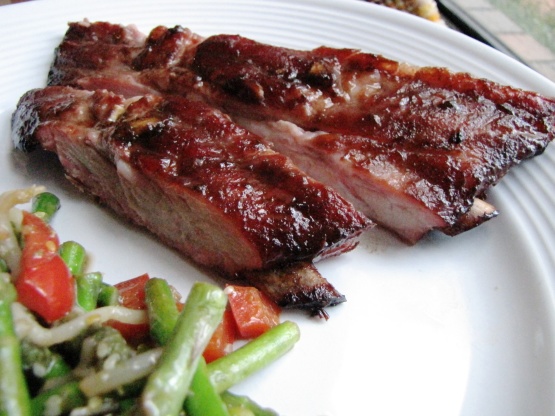 Got this from a grocery store cookbook in the checkout aisle. Put here for safe-keeping.

Delicious ribs! I didn't use low-sodium soy sauce so I left out the salt, otherwise made as directed. The ribs marinated for about 3 hours. The marinade/sauce is just delicious and was great with the smoky flavor of the grilled ribs. Thanks for sharing this recipe!
Place ribs in a large shallow pan.
Mix together marinade ingredients; pour marinade over ribs.
Cover and marinate, turning occasionally, for 1 to 2 hrs or up to 24 hrs, refrigerated.
Bring to room temperature before cooking.
Remove ribs from marinade, reserving marinade.
Place ribs on an oiled grill 4 to 6 inches from the off-set coals.
Grill ribs indirectly, turning occasionally and brushing with marinade, until crusty outside and tender juicy inside, about 1 to 1-1/2 hours.