Grilled Skewered Red Potatoes
Prep 1 hr 15 mins
Cook 16 mins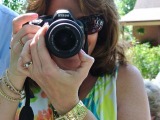 I adore potatoes on the grill. Prep time includes marinating time.
Make and share this Grilled Skewered Red Potatoes recipe from Food.com.
Directions
Boil potatoes until tender but not too soft. (I cook mine in the microwave.).
In a large bowl, combine the remaining ingredients. Add potatoes; stir gently to coat. Cover and refrigerate for 1 hour.
Drain, reserving marinade. Thread potatoes on metal or soaked wooden skewers. Grill, covered, over hot heat for 6-8 minutes or until potatoes are golden brown. Turn and brush occasionally with reserved marinade.
Reviews
Most Helpful
My family loved these potatoes. I didn't grill them but mixed the sauce and poured it over the potatoes. After marinating I roasted them in the oven until browned. This is a nice change for the ever flexible spud!
These were okay. Don't expect potatoes to get softer once they're on the grill. Pre-cook them to DONE - they're only on the grill for a few mins.

Great flavor! I used white nugget potatoes, cooked them in the AM, marinated them all day in the fridge. Took a minute to skewer them and only about 10 minutes to reheat and brown them. I used Vermouth for the wine (it is actually a fortified wine). Great flavor - Marg I love this recipe Thanks for posting it

Summer Central