loof751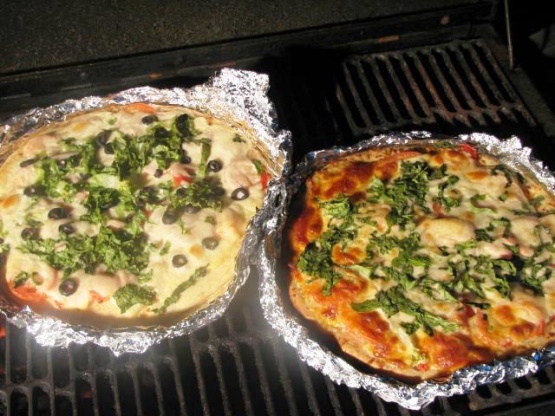 Sicilians like their escarole sauteed with lots of olive oil and served with chewy bread to sop up the juices. This is a grilled adaptation of that idea! This is so good! It won't keep too long because of the greens, so eat it up! That won't be hard! Adapted from BH&G magazine.

This pizza was amazingly good! We do LOTS of grilling but this was our first time attempting anything like a pizza and it was just fantastic. The smokiness of the grill really added something special to an already great combination of ingredients. We will definitely be doing this again - thanks for posting this winner!
Top pizza crust with tomatoes, mozzarella cheese, and olives.
Drizzle oil over all.
Fold a 24x18-inch piece of heavy foil in half lengthwise.
Place pizza on foil, turning edges of foil up to edge of pizza.
In a grill (with a cover), arrange preheated coals around a drip pan for indirect grilling.
Test for medium heat above pan.
Place pizza on the grill rack over the drip pan.
Cover and grill about 8 minutes or until pizza is heated through, topping with escarole the last 2 minutes of grilling.
To serve, sprinkle Parmesan cheese and freshly ground black pepper over pizza.