DuChick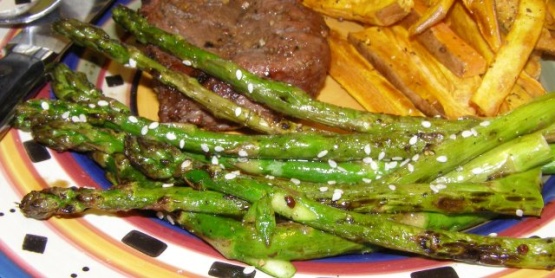 I love making asparagus this way. It's quick and easy and tastes like you went to a lot of trouble.

I made this tonight and it was WONDERFUL! I didn't have quite a pound of asparagus, so I adjusted the quantity of sesame oil & soy sauce accordingly. My husband LOVED it as well. Wonderful way to serve asparagus. As my husband said "I have always loved asparagus...but this makes it even better!". Thank you for posting such a quick and delicious recipe!
Soak 2-3 bamboo skewers in water for 30 minutes or more.
Wash asparagus and snap the ends off. *Note: Snapping the ends off with your fingers rather than cutting will prevent the asparagus from being stringy.
Thread the asparagus spears onto the bamboo skewers.
Spoon or brush the toasted sesame oil onto the asparagus.
Spoon or brush the soy sauce onto the asparagus.
Sprinkle with pepper.
Place on BBQ grill and cook for 3-4 minutes until tender-crisp.
Sesame seeds can be added after cooking or before, whichever you like better.
Any extra soy sauce-oil mixture can either be used for dipping or basting during cooking.