Grilled Sausage and Peppers Pizza
Rita1652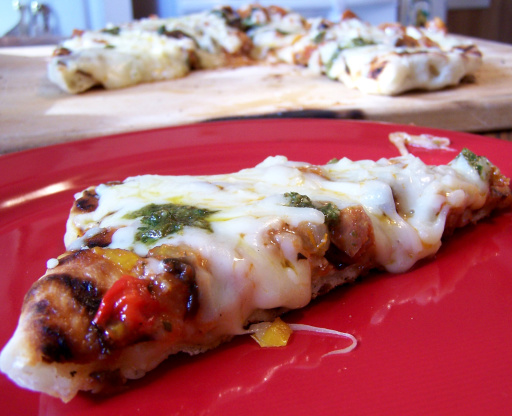 This pie startes with my dough that is easy to handle and tasty. You can grill the veggies and sausage or saute them indoors the day before. This recipe is a great way to use left-over sausage and peppers so do use your favorite. As with all grills, keep a close eye on the pizza. Check out this thread http://www.recipezaar.com/bb/viewtopic.zsp?t=274104 on grilling pizza.

Wow, this is the first time I ever thought about grilling pizza. I used a pre-made crust, and used Italian seasoning, garlic powder, and black pepper sprinkled over the sauce, then added toppings. It turned out fantastic. We did this at the lake, and we began drawing a crowd when they noticed the crust coming out of the ice chests. Good thing I brought extra crusts and sauce! You've really started something here. Thanks for sharing your recipe.
Prepare and have all ingredients ready at room temperature by the grill.
Heat a clean well oiled grill to medium high.
Divide dough into 2 or 4 pieces roll out on a well floured board or sil pad to 1/4 inch.
Lightly spread olive oil on one side of the dough rounds.
Grill the dough oil side down over direct medium/ high heat until the underside of the dough is marked and can be lifted away from grill, 1 to 2 minutes.
With tongs, gently flip the ungrilled side onto the grill.
Turn down the heat on your grill to medium/low.
Quickly distribute evenly a touch of olive oil, sauce, peppers, onions, sausage, cheese, a sprinkle of herbs and if desired a couple dallops of pesto.
Close the lid down you can bake the toppings to get your pizza just right about. 3 minutes.