Grilled Salmon With Pecan Butter
Prep 15 mins
Cook 10 mins

Pecans pair beautifully with fish; especially those that can be pan roasted or grilled. You can substitute salmon fillets for steaks. Recipe is from my "In Praise of Pecans" cookbook.
Directions
In a small mixing bowl, combine the pecan butter ingredients; beat until well blended. Set aside.
Rub salmon steaks with oil and season with salt and pepper. Grill, broil, or pan-sear for 4-5 minutes on each side or until salmon is cooked to desired doneness. Transfer to dinner plates or a serving platter. Top each with a dollop of pecan butter. Pass the remaining butter.
Reviews
Most Helpful
Delicious salmon recipe. It's so darn easy, too. I was cooking late night tonight, so I just used a cast iron skillet to cook the salmon. The pecan butter is fantastic. What a great combination of flavors. Thank you!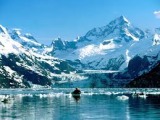 I used salmon fillets and this was excellent. The pecan butter really enhanced the salmon. I used the chives option. DH said this was the best salmon he ever had! made for CCQ Culinary Quest 2014

I have to agree with the other reviewers...this is a 5 star recipe...very easy to prepare...loved the pecan butter addition...I used curly parsley...made for Best of 2014 tag game...