Grilled Salmon With Mustard Dill Sauce
Peter J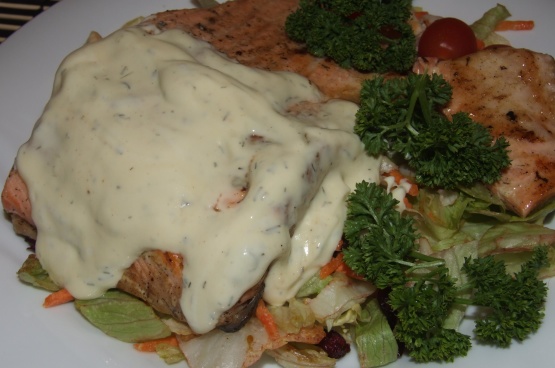 From a daily cookbook but I don't remember the name.

I don't care for salmon at all. The wife makes me cook it because "its healthy" This recipe made it taste like something special. I may be eating "healthy" more often now. I subbed sour cream for the yogurt. C'mon, at least it was LOW FAT sour cream! Thanks for a super recipe.
Placed rinsed salmon in a shallow baking dish with skin side down.
Combine all ingredients for sauce in a small bowl and whisk until well blended.
Brush fish lightly with sauce on both sides and let reach room temperature while preparing grill.
Over a medium fire, grill fish for 7-10 minutes on a side, or until fish is flaky.
Arrange salmon on a serving platter and spoon remaining sauce over pieces.
Garnish with dill and serve.