Grilled Salmon With Lime Butter Sauce
Elkaybee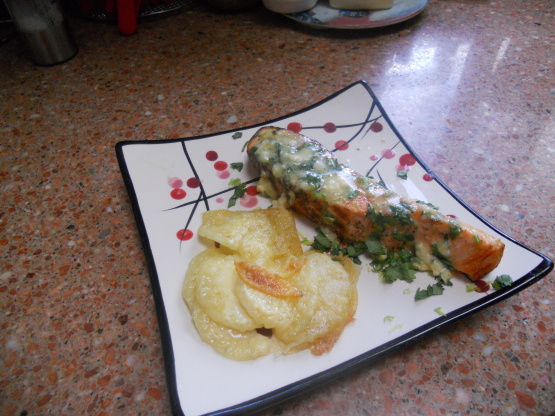 From the back of the salmon package. Lime and butter beautifully highlight the flavor of grilled salmon. This sauce takes just 5 minutes to make and can be made a day ahead and chilled.

This recipe was so good & easy. The sauce was excellent with the lime & cilantro. I would recommend not substituting lemon juice as the lime just seems to lift the flavour & makes it taste so fresh. I cooked this inside and it took about 6 mins. I will definitely make this again & will add this to my dinner party list.
In a blender, puree the garlic, lime juice, salt and pepper until smooth. Add melted butter and blend another 30 seconds. Season salmon fillets all over with salt and pepper. Grill over medium heat on lightly oiled grill rack 4 to 6 minutes (cover if using gas grill.) I used the Flavorwave Oven. Turn fillets over and grill until just cooked through, 4 to 6 minutes more. Sprinkle fillets with lime zest and cilantro and then top with the lime butter sauce.