Grilled Salmon With Jalapeno Butter
CarolAT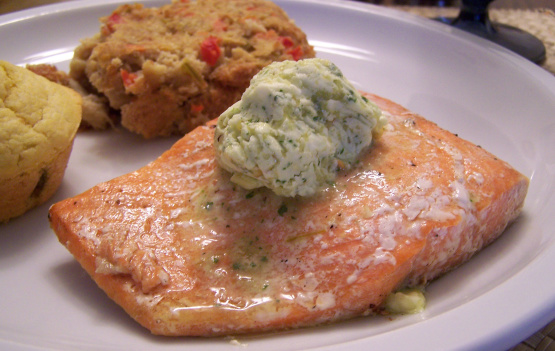 A 1995 Better Homes and Gardens winner in the fish and Seafood category. I have not tried this.

Absolutely wonderful recipe. I ended up baking mine in foil in a 350* oven due to high winds tonight and it turned out excellent. I also dusted the fish with a mixture of dried basil, oregano, garlic and thyme. This is keeper!!
Butter:.
In a blender or food processor, combine gingerroot, garlic, and jalapeno. Process till finely chopped.
Add cilantro and process till combined.
Stir this mixture into softened butter.
Shape butter into a 6" log on a piece of plastic wrap; seal tightly and chill till serving time or freeze for up to 3 months.
Fish:.
Salt and pepper salmon.
Place in a well-greased grill basket or on a well-greased grill rack directly over medium coals.
Grill for 4-6 minutes for each 1/2" of thickness. (Or, broil on the unheated rack of a broiler pan 4 inches from the heat for 4-6 minutes for each 1/2" of thickness).
If the fish is thicker than 1 ", turn it halfway through cooking.
When done, the fish should flake easily when tested with a fork.
To serve: place a slice of jalapeno butter atop each piece of fish.