teresas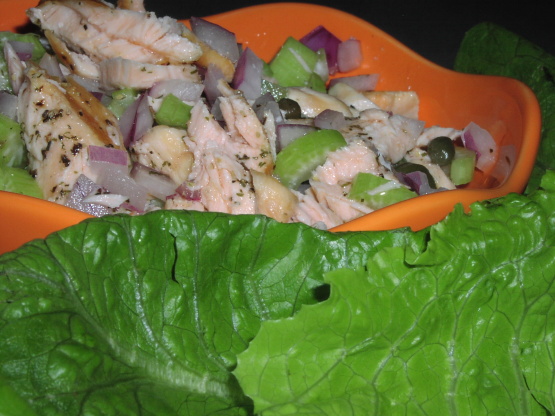 This is a delicious salad for a summertime lunch or brunch. It came from The Barefoot Contessa cookbook.

yum! this was perfect for a light dinner. The dressing is perfect...and not too sweet the way som many bottled dressings are. I added a bunch of different veggies to the salad and it was FABULOUS!
Rub the salmon filets with a little olive oil so they don't stick to the grill and salt and pepper them lightly.
Cook the filets on a hot grill for about 5- 6 min.
per side.
They should still be rare in the middle.
Cover with plastic wrap and chill for several hours until cold and firm.
Remove from frig and remove any skin.
Break filets up into small chunks and put into a bowl.
If there is any juice on the plate they chilled on, dump it into the bowl with salmon.
Add the celery, onion, capers and dill.
Mix the olive oil, vinegar salt and pepper and pour over salmon.
Mix well and serve cold or at room temp.