Grilled Salmon and Mango Salsa
La Marz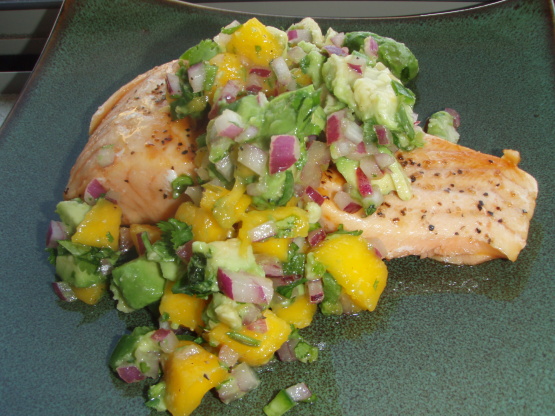 This is my rendition of a similar recipe I read on a Martha Stewart's Simple Life small recipe book (the name might not be correct, sorry). This is one of my husband's favorite. Since I didn't buy the booklet, I don't know the exact recipe, but it is basically this...

Yum! This salsa is so good! The mango and avocado compliment the fish so well. I baked the salmon, and didn't put a whole jalapeno in the salsa- and it was still spicy. Will definitely make this one again.
Season (I only used salt & pepper) the salmon, and grill it. You can use a skillet, if you don't want to go outside and grill.
In the mean time, combine the rest of the ingredients in a bowl.
When the salmon is cooked to your taste, serve it with the fresh salsa on top, and surrounding it. You will have "leftover" salsa, that you might just eat it by itself, since it's so good.
It is very simple, but yet, really tasty!