Grilled Rosemary and Lemon Chicken
loof751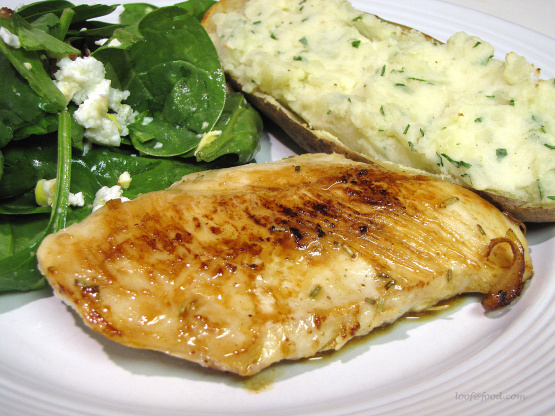 Delicious placed over salad greens using a vinaigrette dressing.

In a word - delicious! This marinade made with staple ingredients I always have on hand produced lots of flavor in a short marinating time. Bad weather forced a change of plans and I sauteed the chicken instead of grilling; it came out so moist and tender. Thanks for sharing a great recipe!
Place chicken breast halves between two pieces of plastic wrap. Lightly pound with a meat mallet to an even 1/2-inch thickness. Place in a large resealable plastic bag.
For marinade, in a small bowl, stir together lemon peel, lime juice, rosemary, oil, sugar and garlic. Pour over chicken. Seal bag; turn to coat chicken. Marinate in the refrigerator for 1 to 4 hours, turning bag occasionally.
Remove chicken from marinade, discarding marinade. Season chicken with salt and pepper. For a charcoal grill, place chicken on the grill rack of an uncovered grill directly over medium coals. Grill uncovered for 10 to 12 minutes or until tender and no longer pink, turning once halfway through grilling. (For a gas grill, preheat grill. Reduce heat to medium. Place chicken on grill rack over heat. Cover and grill as above.).