COOKGIRl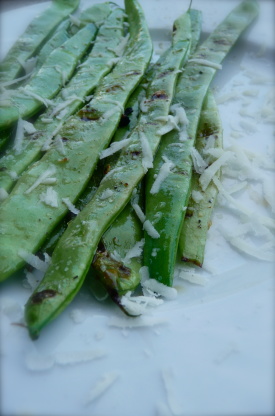 My husband came home yesterday with green Romano beans he bought at our local farmers' market and I was thrilled because we don't see them too often! What a rare treat! As far as preparing the beans, simple and quick is best and I usually steam or lightly sautè however this time I tried a stove top grill pan. If you are fortunate to find (or grow) yellow or purple Romano beans, replace a portion of the green ones for yellow/purple beans in this recipe. The garlic is my addition as is the cheese and although the latter is my contribution it is optional. *Be careful how much you salt the beans especially if you are adding the optional cheese- remember the cheese is salty, too.* Perfect all on its own, as a side dish, or as a delicious ingredient in warm weather salads or arranged over fresh pasta. Recipe found on the blog coconutandquinoa.wordpress.com.

Wow these are good. A neighbor was growing and overabundance of yellow romano beans, so I used those, but green would be equally good. Instead of putting them on skewers, I used the vegetable wok, which was way easier. I used minced shallots instead of garlic.
1⁄2 lb green romano beans, ends trimmed
extra virgin olive oil (I used roughly 3 tablespoons of olive oil-a good quality one!)

2

garlic cloves, finely minced
sea salt (I used medium-coarse Sicilian salt)
pecorino romano cheese, freshly grated (optional, or other strongly flavored Italian cheese such as Parmesan, grana padano, etc.)
Heat grill pan over medium heat for 4 or 5 minutes. Tip: if using an outdoor grill, thread the beans crosswise on bamboo skewers (skewers soaked in water first) on both the top and bottom of the beans.
In a shallow pan, lightly coat beans by rolling them in the olive oil.
Place the Romano beans on grill pan in a [single layer] and grill 4 minutes on each side.
Transfer to a serving dish and garnish with the minced garlic, sprinkle with sea salt and cheese, if using.
Servings are estimated.