Grilled Rib-eyes and Fried Onion Rings
rosie316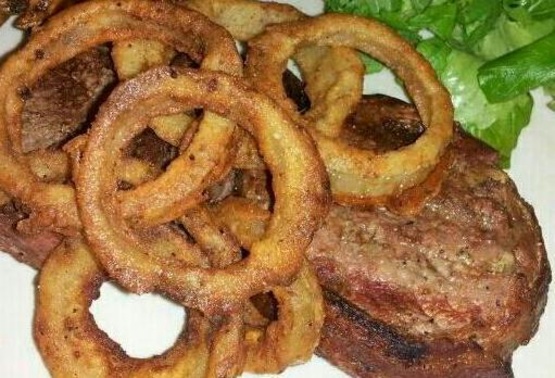 A great meal for men and everyone else who loves thick rib eyes and onion rings. The only thing needed for a complete meal is french fries (or baked potatoes) and/or a tossed salad with apple pie and ice cream for dessert--comfort man-sized meal at its best! Recipe adapted from: Bon Appetit (September 2004).

What more can I say except... "THE BOMB"! The steaks were wonderfully seasoned, but the onion rings stole the show. I usually stink at trying to make them... but I had success with these (although my one sacrificial ring bit the dust at the start). I think I may try double dredging them next time to put a 2nd coating on them before frying. Either way they were great! The nice part about our dinner was that, although I seasoned the steaks, hubby manned the grill and didn't burn them. Yahoo! I served this meal along with Recipe #352906 and a arugula salad. Thank you so much for posting this recipe. (Made for PRMR)
Pour the buttermilk into a large bowl. Add onion rings, toss to coat. Let stand one hour, tossing occassionally. Drain.
Mix flour, onion powder, garlic salt and pepper in a large bowl.
Add onion rings and toss to coat.
Preheat oven to 350-degrees F.
Prepare grill.
Brush steaks with oil and sprinkle with garlic salt, onion powder and pepper.
Pour oil in cast iron skillet to a depth of 2-3 inches and heat oil over medium high heat until oil is about 350-degrees F.
Working with a few onion rings at a time, fry onion rings for 2-3 minutes.
Drain on paper towels and then put on cookie sheet to keep warm in the preheated oven.
Repeat until all are fried and drained and kept warm in oven.
While cooking onion rings grill steaks to desired doneness (about 10 minutes per side depending on the thickness of the steaks).