Grilled Rib Eye Brochettes With Charmoula
Jostlori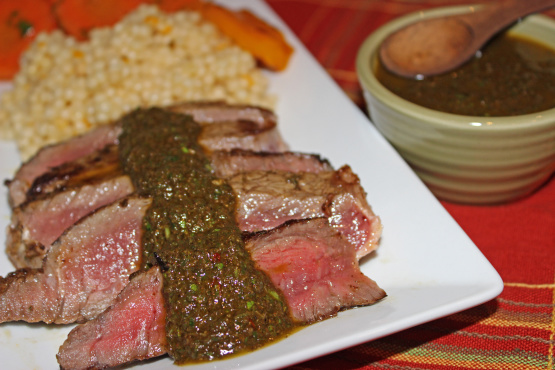 Charmoula or Chermoula (Chrmla) is a marinade used in Algerian, Moroccan and Tunisian cooking. It is usually used to flavor fish or seafood, but it can be used on other meats or vegetables. Chrmla is often made of a mixture of herbs, oil, lemon juice, pickled lemons, garlic, cumin, and salt. It may also include onion, fresh coriander, ground chili peppers, black pepper, or saffron. There are many different recipes that use different spices, and the proportions vary widely. In most recipes, the first two ingredients are garlic and coriander). A Moroccan version comprises dried parsley, cumin, paprika and salt and pepper. It is the original seasoning for grilling meat and fish in Moroccan cuisine. This recipe adds easy North African flavor to beef kebabs by using a traditional charmoula marinade and was created by chef Tim McKee of Minneapolis. Use a marbled rib eye for the kebabs; it won't dry out on the grill.
I made this with flanken cut ribs and it was absolutely delicious. I served it with a rice salad
In a food processor, combine parsley with cilantro, garlic, cumin, coriander, paprika, cayenne, and saffron and pulse until herbs are finely chopped. Add lemon juice and olive oil; pulse to incorporate. Add salt.
Scrape half the charmoula into a bowl and refrigerate. Scrape remaining charmoula into a large bowl with steak cubes; turn to coat. Let stand at room temperature 2 hours.
Light a grill. Cut onion and red bell peppers into 1-1/2-inch pieces. Thread 3 chunks of rib eye each onto long skewers, adding a piece of onion and pepper between each piece of meat. Grill over high heat about 15 minutes, turning skewers occasionally, until meat and vegetables are lightly charred and meat is cooked medium-rare to medium. Serve with reserved charmoula.