gailanng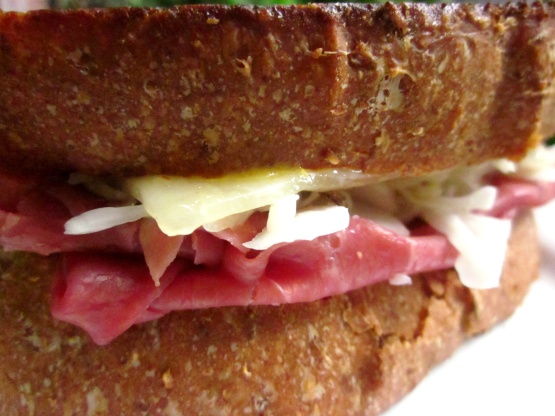 Delicious hot reuben sandwiches for 4. Ready within 20 minutes. Two methods given. Can use deli meats, but wonderful with home-cooked corned beef.
Spread 1 teaspoon mustard on each slice of bread. Spread 1 tablespoon dressing on mustard, then top with one slice of cheese.
Divide corned beef between two slices of bread. Divide sauerkraut and place on meat; grind over pepper. Top with other slice of bread.
Method 1: Pan Grilled:.
Spread outside bread with 1 tablespoon butter. Melt the remaining 1 tablespoon butter in a large nonstick frying pan over medium heat.
Add sandwiches, unbuttered side down, and fry until golden, about 5 minutes each side. Turn and brown the other side.
Method 2: Oven Grilled.
Preheat oven to 400°F.
Spread one tablespoon butter on top of bread and then carefully flip sandwich over onto a sheet pan. Butter top piece of bread and bake for about 10 minutes, or until browned and cheese is melted.