Grilled Raspberry Chicken Salad
MA HIKER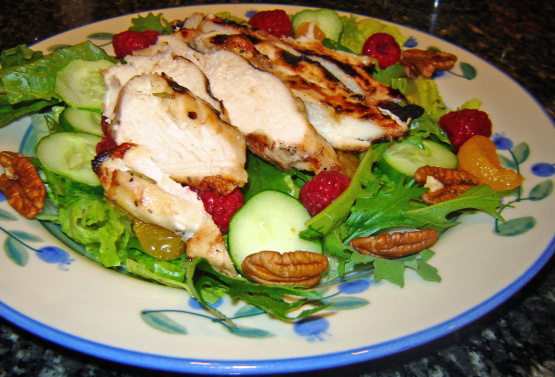 Easy recipe for a great salad. I used bottled raspberry vinaigrette dressing. You choose your favorite. Cook time does not include marinade time.

Made Recipe #215827 to go over this salad. Turned out great. Added candied almonds.
Mix 1/2 cup dressing with garlic powder and rosemary. Place chicken breasts in a plastic zip-top bag and add dressing marinate in fridge for 30 minutes to 8 hours.
Grill chicken 4 to 5 minutes over med high coals, or till meat registers 155°. Remove from heat and cover. Allow to rest for 10 minutes to come to temperature.
Meanwhile, place lettuce on 4 plates. Divide other ingredients equally among the 4 plates. Slice each chicken breast and put equal amount of chicken on each plate. Add additional dressing and enjoy.