Grilled Rainbow Peppers (Salad)
jenne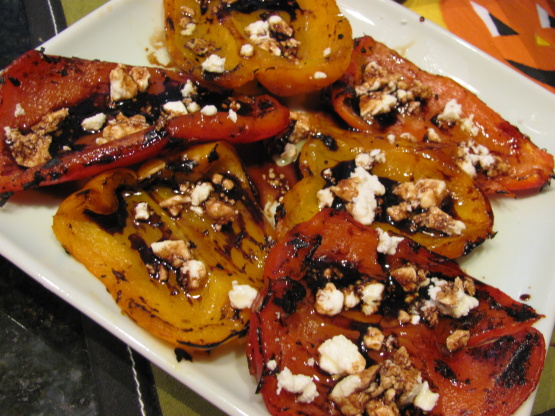 Recipe from Mary Allen Perry and cut out of a magazine last month, but I have no idea what magazine it was.. .sorry about that!! I tend to like to remove the skins, so I completely char the peppers on the skin side, place them all in a paper bag for about 15 minutes, then slide the skins right off.
3

bell peppers (use all different colors if you can)

3

tablespoons olive oil

2

tablespoons balsamic vinegar

1

tablespoon brown sugar
1⁄2 cup goat cheese (I used much less, and I have subbed Feta too)
1⁄2 cup loosely packed torn fresh basil leaf (optional)
salt and pepper
Preheat grill to 350 to 400 degrees (medium-high). Quarter the peppers and lightly coat them with vegetable cooking spray.
Grill peppers, covered with grill lid, for 5 minutes on each side until tender.
Remove from grill and arrange peppers, "inside" sides up, on a serving platter.
Whisk together oil, vinegar and sugar; drizzle over the peppers. NOTE: If you are using high grade vinegar that is already thick and sweet, there is no need to add the sugar.
Sprinkle peppers with goat cheese & basil - then salt and pepper to taste.
Serve!