Grilled Rack of Lamb With a Port Wine Fig Sauce
saribog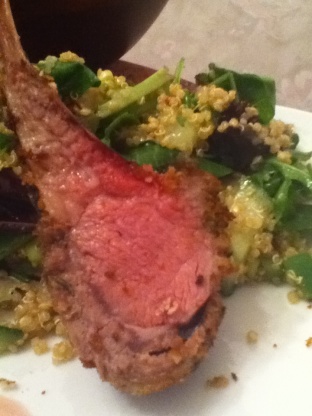 This was a recipe I got from a fellow chef at a food show many years ago. And I admit, it has evolved quite a bit over the years, but still has the same flavor. I love to use fresh figs and rosemary which to me are the key. Most Whole Foods or a gourmet market usually have fresh figs. You can use dried figs, but the fresh really take it over the top. Now I have a Sams Club by me, so anyone else who does ... check out their rack of lamb. I get 2 racks 9 each monthly for a very reasonable price, half the butcher or grocery store. This makes having a elegant dinner for friends very affordable.
Marinade -- Mix all the ingredients and rub over the lamb well. Put in 1 or 2 large baggies and seal and just let marinade over night. 24 hours plus is fine for this.
Fig Sauce -- Take 1/2 of the fresh figs and cut them up in quarters. In a small sauce pan on medium heat add the olive oil and then add the shallots, garlic, rosemary and figs. Cook five minutes until the figs are soft. Add the port wine and chicken broth. Simmer until reduced by about half on low/medium heat. About 10 minutes, the sauce with thicken on it's own.
Lamb -- I like to grill the lamb until nice and brown with good crusting on each side, about 5 minutes per side and then flip. Then I move to indirect heat to finish cooking. They don't take long. Another 5 minutes on the indirect heat and they should be done. Make sure you have a meat thermometer which is very important when cooking this. I like to remove my lamb at about 120 degrees and cover with foil. It will come up to 125 which is medium rare. You can remove it a bit earlier if you like it more rare. 125 seems to work perfect for me each time. Remove and cover with foil to let set 10-15 minutes before carving.
Sauce -- Add the fresh figs to the reduced sauce to heat up, the butter and a dash of the balsamic vinegar.
Serve and Enjoy -- I like to serve 2-3 chops per plate and I love to serve this over a mix of mashed parsnips and potatoes or even some roasted spuds. Then drizzle the fig sauce over the lamb and some on the potatoes.
Fresh sauteed kale is wonderful with this or some roasted brussels sprouts with a walnut butter. (Walnut butter -- just fine grind walnuts and mix with butter, melt and serve over green beans roasted brussels sprouts, and grilled cabbage or cauliflower). Very easy and very flavorful.