Sageca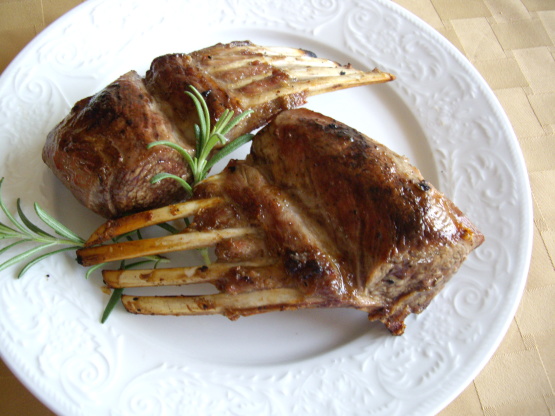 Wonderful moist and full of flavour. I found the perfect way to prepare a rack of lamb on the BBQ. Brining is the answer. This is for 1 rack of 8 ribs but you can simply add a second rack to the brine.
Make brine using the brining ingredients.
Add lamb and make sure it is completely covered.
Let sit at least 8 hours in th refrigerator or if using Food Saver marinate 2 hours.Meanwhile make a mixure of the second part of Rosemary, Thyme, garlic and oil.
Remove the racks of lamb from the brine solution and pat dry with a tea towel. Smear with herb mixture.
Brush grill with canola oil. Light the burners under the grill plate and allow them to get quite.hot. Place the racks of lamb on the hot barbecue grill and brown each side. Once the racks of lamb have been browned, slide the rack to the other side of the barbecue and adjust the flames so they are at a medium Low heat.
Throw the rosemary sticks from the brine mixture onto one of the burners and close the barbecue lid. The idea is that the rosemary sticks will smoke and burn providing a smoky rosemary flavoured atmosphere and the racks of lamb will bake inside the oven cavity of the barbecue.
Cook until temperature reaches 65° for medium rare, approx 20 minutes.
Place on plate; cover with foil and towel and let sit 10 minutes.
Very nice served with Knorr demi-glace sauce, mint jelly if that is your choice. Enjoy!