Bergy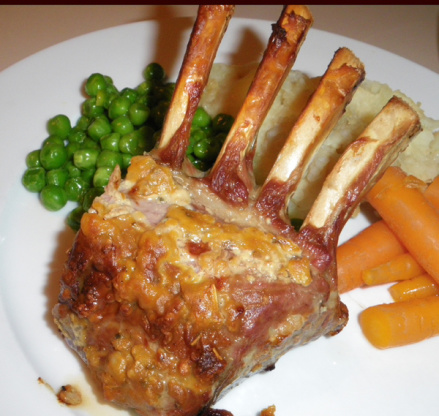 Rack of lamb marinated in a dijon/garlic/herb mixture. Grilled to a crispy brown on the outside and juicy and pink on the inside.

I've done this many times in the oven, but this is the first time on the grill and it is superior! Thanks for a keeper.
Remove the racks from their wrappers. Pat dry with paper towels and set aside.
In a mixing bowl combine mustard, garlic, oregano and rosemary. Brush the mixture on the racks.
Cover and refrigerate overnight.
Cook the racks in a 375 deg. preheated oven for approximately 10 to 15 minutes. Remove from the oven and let cool.
Once cooled, wrap the bones in foil to prevent burning.
Place the racks on the barbeque and cook for approximately 15 minutes.