Grilled Prawns With Cilantro and Ginger Sauce
teresas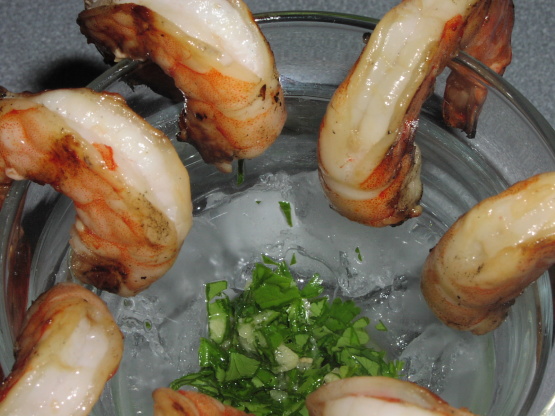 Based on a recipe from Ken Hom's Quick & Easy Chinese Cooking. Ken says, "Most of the work in this recipe may be done well in advance; the actual cooking takes but 5 minutes and the shellfish emerge from under the grill redolent of cilantro and tangy ginger, an ideal appetizer for guests." They can be cooked on the grill or in the broiler. They make an elegant cold buffet dish, or a quick and easy lunch. Quantities are easily scalable. I think these are great and very pretty!

Very tasty, simple prawn recipe! I served this as a main dish for lunch with some sesame noodles, and it fed two of us easily. Yum! Thanks mersaydees!
Preheat the broiler or light a fire in an open grill.
Peel prawns, discarding shells.
Optional step: devein prawns using a small sharp knife to partially split the prawns lengthways and remove the fine digestive cord.
Pat prawns dry with paper towels.
Mix together the marinade ingredients. Add the prawns and set aside for 10 minutes.
Mix sauce ingredients together and set aside.
Place prawns on a baking tray big enough to fit under the broiler. Alternatively, cook them on a grill over gray coals.
Cook the prawns for 3 minutes on one side, flip, and cook for 2 minutes on other side.
Serve prawns with sauce.