lazyme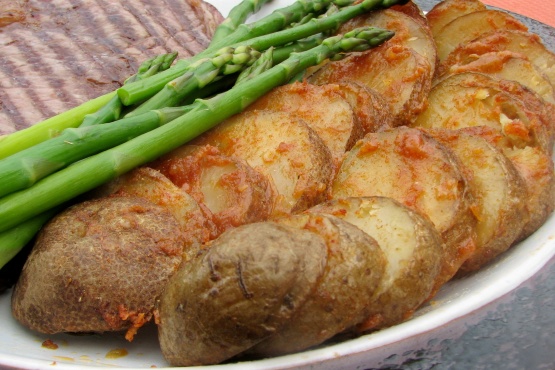 When it is hot outside, who wants to heat up the oven and the house. These are great to go along side with any meat or fish dish. I clipped this recipe out of a Taste of Home Magazine. Updated 7/25/11, I now have made the recipe and the whole family loved the potatoes this way. I also added onion, but the recipe doesn't call for it. To really make it easy, I used "Simply Potatoes" already peeled and sliced potatoes, and used an 8"x8" foil pan; so quick and simple, yet so flavorful.

Frickin' awesome, my dear! I shall never just bake plain ol' potatoes on the grill again. I used your tip in the intro about the foil pan. This was so quick & easy... and "delicious". I did stir 1/2 way thru cooking (indirect heat on the gas grill). I only had 1/2 the paprika called for, but I added a bit more seasoning salt & garlic powder. I melted the butter in the microwave and mixed in the seasonings. Poured it over the potatoes, along with some sliced onion & garlic, and tossed with the parm cheese. I covered the pan with foil. Total cooking time was approx 1 hour (my fault... I thought I turned the grill from medium to high, but actually turned it off). Thank you for posting this recipe. (Made for "Name That Ingredient" tag)
On half of a 24-inch piece of heavy-duty aluminum foil, arrange the potato slices in overlapping rows.
Combine garlic powder, seasoned salt, paprika and Parmesan cheese; sprinkle over the potatoes.
Dot with butter.
Seal foil over potatoes.
Grill over medium heat for 30 minutes or until tender, turning once.
Note: I cook it off the direct heat so I don't burn them, and I cook them for about 45 to 60 minutes.